ZOUM-Club Optimist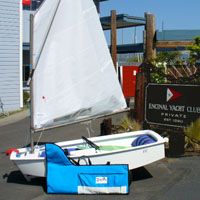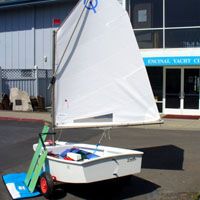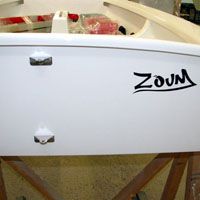 The ZOUM-Club is made with the same superior materials used in the ZOUM-Racer including: Swedish foam, Italian stitched cloth, American resin and gelcoats, and English adhesive. The cloth is hand laid +/- 45 degree stitched non-woven biaxial fiberglass, the foam is 15% stiffer, and the adhesive is military grade performance to eliminate possibility of bond failure. There are no shortcuts taken with this hull. The objective is a better boat and a better value for fleet market.
We have applied aggressive non-skid to both the cockpit and the bow areas – usually found only high-end racers but necessary to on the water sprit adjustment. The mast is precisely centered and vertical. Each boat is minimum weight with excellent balance. Additional components include Elite Orbit racing blocks, double tapered mainsheet, OPTIPARTS hardware with upgraded nut and spring mast step locking system, proprietary Dyneema mainsheet pendant with 316 forged shackle, Solcor solid core shock cord, upgraded heavy duty airbag straps, 48 litre air bags, custom epoxy top grade racing foils, and racing spars; all standard.
In short, a durable high-end race boat at a charter boat price.
Compare…
Like the ZOUM-Racer, the ZOUM-Club was designed to offer exceptional durability and superior racing characteristics.
A far better boat heavily discounted to offer better value and quality than competitors.