ZOUM-Racer Optimist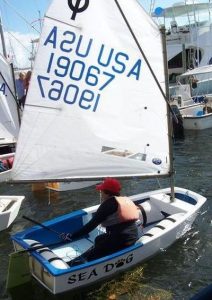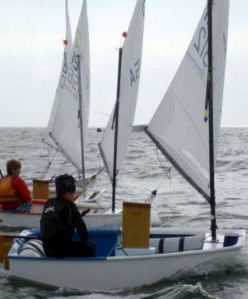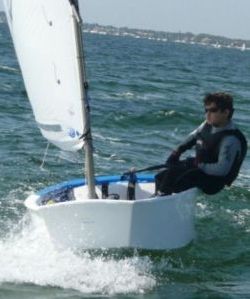 "The best sailor in the world can't win without a good boat" – Dennis Conner
ZOUM-Racer is the finest Optimist sailboat in the world; meticulously designed with technically advanced components and manufactured in Europe.
If you're a serious sailor this is a serious boat !
Team Zoum has won all the most important events world-wide:
– 1st at World Championships,
– 1st at European Championships,
– 1st at South American Championships,
– 1st at North American Championships,
– 1st at many regional championships in the USA, including US Nationals & US Team Trials.
Racing results are unmatched: medaled in every fleet often winning 1st… won every class at US National Championships. Amazing 60% of ZOUM-Racers on circuit win medals regularly. 90% of US Team Trial ZOUM-Racers qualified for US National Teams – 60% for North Americans & World Team. No other brand has won so disproportionately as the ZOUM-Racer; the best sailors choose the best boat – ZOUM-Racer.
World Champion and European Champion Nicolas Rolaz said "I've owned several of the best Optimist sailboats, and my ZOUM-Racer was easily the best – a great way to end my opti career!".
Three-time US World Team member Axel Sly said "most responsive boat I've ever owned".
Two-time US World Team member Richard Schuurmans said "boat speed is the advantage".
US World Team member Martina Sly said "ZOUM-Racer has proven to be a winner over the past years".
US World Team member Russell Clarida said "ZOUM-Racer is definately a weapon… faster, lighter, just a few grams above minimum weight".
Two-time US World Team member Ivan Shestopalov said "my ZOUM-Racer is one of my secrets to winning".
US World Team member Shawn Harvey said "Thank you ZOUM-Racer!".
Professional sailors buy ZOUM-Racers for their children because they know the difference.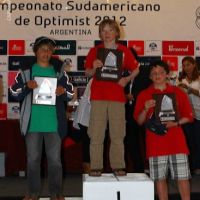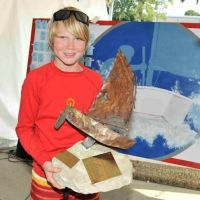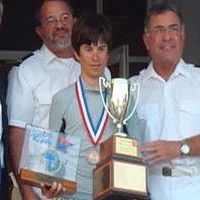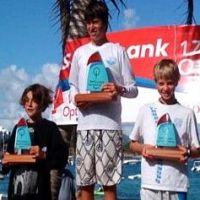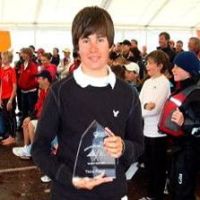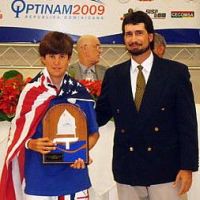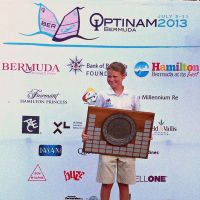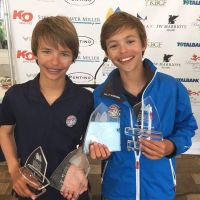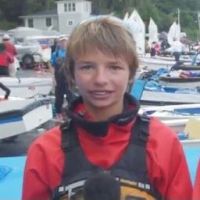 ZOUM-Racer is built to last!
Best materials are sourced throughout the world: Swedish foam, Italian stitched cloth, American resin and gelcoats and English adhesive. Everything is the best, strongest and stiffest. Build is unmistakable. Bonds are strongest in the industry. Moulds are perfect. Every step taken to achieve exceptional durability.
ZOUM-Racer is built to win!
Hull is fast, responsive with excellent feel.

Every detail orchestrated to advance the skipper including:
– optimally heightened mast step,
– optimally lowered daggerboard trunk,
– optimally maximized waterline,
– and optimally sharpened chine.
From rudder fittings through daggerboard to deck collar – perfectly aligned, laser controlled. ZOUM-Racer is fair and perfectly balanced.
---
Technical Specification of the Z

OUM-

Racer boat:
Multi directional non-woven stitched biaxial glass and top quality glassfibre and woven rovings, hand laid for superior rigidity. Bonding agent 10x more expensive than competitors' and will not fail. Superior resins and best quality closed cell PVC sandwich construction with extended in-mould curing, produce the stiffest hull with lowest possible torsion deflection. ZOUM-Racer is minimum weight with optimal weight distribution. Simply put – a faster, more responsive boat.
Ronstan Elite Orbit Racing Blocks- over 21:1 holding power- double that of competitors' with a 10% reduction in weight. High compression grade acetal ball bearings and secondary full-contact bearing. Minimum friction across working load range. Floating sheave and bearing system supported by fiber-reinforced load frame. Design computer modeled and stress optimized. Dyneema® Link produced from FSE Robline SK75 fiber- 10 x stronger and lighter than steel – standard on ZOUM-Racer.
FSE Robline – The ultimate PES, double Tapered Main Sheet from 9mm to 6.5mm to 9mm – minimize weight, water absorption and friction through blocks – standard on ZOUM-Racer.
Zhik's revolutionary ZhikGrip hiking strap turns boat into extension of body through patented grip between the boot and strap – standard on ZOUM-Racer.
Optimax Mk4 spars with the new stiffer upgraded mast, improved cleat positioning, and 45mm boom keep better sail shape. Vectran lines lower weight. Alloy reduces oxidation. Natura 50 micron hard annodized metal ages better than competitors. A special "hi-seal" minimizes risk of galvanic corrosion. These dominate the top field – standard on ZOUM-Racer.
Zoum epoxy foam championship racing foils- custom engineered for maximum stiffness. Infused epoxy with Divinycell foam and sanded finish to reduce boundary layer drag. The best! – standard on ZOUM-Racer.
Clear transom and in mold accent – standard on ZOUM-Racer.
Low friction nylon racing deck collar and sleeve – standard on ZOUM-Racer
Mast lock, 2 bailers, protest flag, upgraded custom Marlow bowline and Solcor solid core elastomer shock cord – standard on ZOUM-Racer
Three premium highfloat polyurethane coated nylon air bags – standard on ZOUM-Racer.
Team Zoum Membership tracks and supports ZOUM-Racer skippers through their opti career.
---

And, What Now……?
Quite simply – ZOUM-Racer Optimist is the boat to buy, if you have done your homework. Use side-by-side comparison. Seek references. Ask why seasoned competitors switch to ZOUM-Racer Optimist. Verify the ZOUM-Racer Optimist advantage before you buy: minimum weight, optimal distribution, premium hardware and components.
And…choose the ZOUM-Racer Optimist because it is the best !
Available all over the world, delivered by us to your door-step, wherever you are.